This AutoExec RoadMaster Truck Desk - RoadTruck 01 version is designed for laptop use. This desk transforms your vehicle environment into mobile office.
The AutoExec RoadMaster Truck Desk Organizer offers laptop positioning similar to a floor mounted computer stand without the installation and permanent mount. In addition, store your hanging file folders in the desk as well as other office essentials in the storage area under the work-surface. This desk is a complete Mobile Office which is secured to the passenger seat by using the seat-belt.
Specifications:
25.25" L x 25" W x 11" H
Product Weight: 18 lbs.
The laptop plate extends the computer another 3 inches from the edge of the work surface
Colors:
Dark grey body with light grey work surface\.
Super 200 Watt Built-In Power Inverter

Please note:
The AutoExec does not come with a power supply. This power supply can be installed in any AutoExec model as an additional accessory. When placing your order, you can add the built-in power inverter from the drop down options above. The desk will be shipped to you with this power inverter installed.
A built-In, high speed cooling fan helps keep the unit cool and there is an On/Off Switch and LED Indicator. Ideal for running computers, cell phones, lights, stereos, radios and CD players in cars, trucks, 2 USB ports and 2 AC receptacles.
Printer Stand


Our printer stand uses a unique, spring loaded mechanism that holds strong, yet provides easy removal for printer storage. At each end of the spring loaded cradle are small clamp plates that are designed to fit cleanly around either edge of the printer.
Holding dimensions for standard size:
Min. Width: 11"
Max Width: 14.5"
Holding dimensions for small size:
Min. Width: 6.625"
Max. Width: 11"
Cell Phone Mount



The Universal Cell Phone Mount Cradle: Holder features a multi angle ratcheting pedestal and side grip ratcheting mechanism that's controlled with a simple push button release. Your Cell Phone will be held securely in place by the soft, cushioned, side grip arms of the cradle. When you want to remove your Cell Phone from the cradle, simply press the push button release.
iPad/Tablet Mount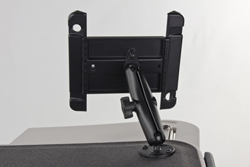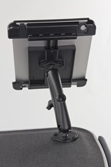 Get the most out of your tablet with the universal tablet holder. With interchangeable cup ends, you can fit the holder to your tablet for a near custom fit. This spring loaded design makes it easy to load and unload your tablet, along with keeping it secure while on the go. Cup ends are designed to optimize the functionality of your tablet, allowing access to audio jacks, USB power, and other ports. Your tablet can be used just as it was intended.
Tablet Mount Specs: The universal mount is compatible with Apple iPad 1 and 2 and any tablet that will fit the cradle dimensions listed below.
Cradle Dimensions:
Height: 8.5" minimum to 10.75" maximum
Width: Maximum width to 7.75"
Depth: 0.56" maximum
Features:
Support cups contain open slots to accommodate for tablets of various sizes in thick rugged sleeves, cases, bumpers, or folders.
Back plate can support various size support cups
Spring loaded tension provides secure support for your tablet
Spring loaded cradle allows for quick release of your tablet
Full access to all ports
Material:
AutoExec Wheelmate (Attaches to steering wheel when parked)




Hook the WheelMate to the bottom of your steering wheel while parked and you have an instant desk surface. Great as a writing platform or can even be used as a tray for eating on the go.
Measures 15" wide and comes out 8.5"
Color: Grey
Imprint area: 4"x10"
Weight: 1.5 lbs.